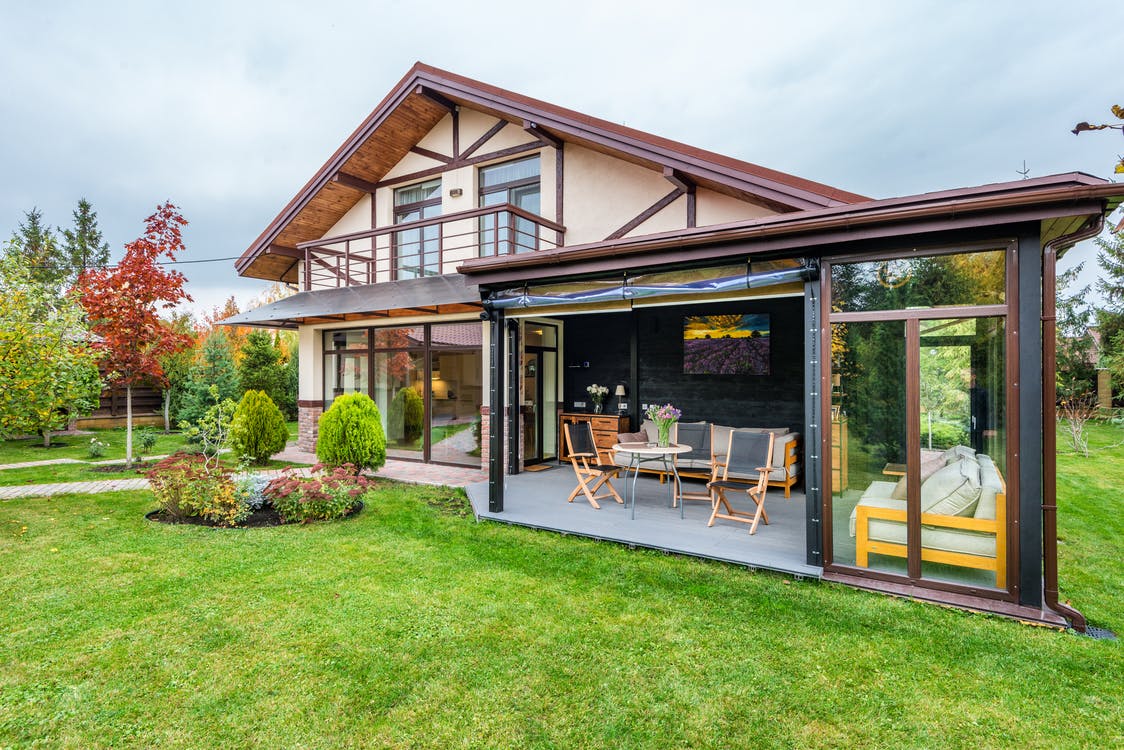 If the coronavirus pandemic taught us anything, it's that when you spend a vast amount of your time in your house, that house is going to start to feel … smaller. Maybe too small!
As our ways of life have shifted—going out less and working from home—you may discover that you need more room to breathe. When you own your house, this can be as simple (or as complicated) as adding more livable square footage to your space.
But how exactly can you do that? What are your options?
Talk to an agent!
Real estate agents are not general contractors, but they do see lots and lots of houses in their days helping people buy and sell, and many of those houses are in your very neighborhood.
That means agents understand the issues that your neighbors (people just like you!) are dealing with in their homes, and they've seen the different solutions that those neighbors have attempted to fix the problems. Agents are perfectly situated to help you understand what opportunities you might be missing when it comes to extending your space because they've seen the success stories and the mistakes.
Take out non-load-bearing walls
Walls take up space in a house. It's wonderful for privacy, but if you have one of those floor plans that's closed up and claustrophobic, then removing some walls inside (non-load-bearing ones, which means they aren't holding up the ceiling or floors above you) can open up entire levels of your house.
Open floor plans, where the living and dining and sometimes even kitchen areas all blend into one another in one big space, have been popular for years; some families found they preferred more privacy during the pandemic, but when it comes to maximizing your space, they're hard to beat. If your house doesn't already have an open floor plan, consider talking to a contractor about what it would take to achieve one.
Loft conversions
Perhaps you already have a loft in your house, or perhaps there's a room with a vaulted ceiling that would lend itself to building a loft.
Lofts are wonderful because they have almost infinite possibilities as a multipurpose space, from a lounge area to a kids' playroom to a formal home office setup.
Garage conversion
Garages are where cars live, not people—but it's covered with a roof and part of your house already. Converting your garage into a lounge space, an office, a home gym, or a playroom can be a temporary fix, or you can hire someone to fill in the garage door and incorporate your garage as a permanent living space for humans.
Basement conversion
In many states, a basement won't count toward the home's square footage unless it's a walk-out basement with windows, so don't expect a basement conversion to add its entire footprint to the official square footage of your house.

In terms of livable space, however, finishing your basement by adding flooring, finishing the walls and ceiling, and running heat and light throughout the area can give you a lot of room to work with if you need it.
Room extension over the garage
Maybe you need the garage space for your car, or a project that can't be done inside the main house. Fair enough! Adding a room extension on top of the garage, finishing it and ensuring it's well-lit and heated, can give you that full extra room without having to move your vehicles elsewhere.
Single-story extension
There might be room to build more house onto the side or back of your house, depending on what your lot and home layout happen to look like. If this is the case, then a single-story extension can give you an additional bedroom and bathroom, a breakfast or dining nook, or another living space of your choice—without having to leverage any existing square footage in your house.
Double-story extension
A double-story extension is just like a single-story extension, except instead of only adding the extension to one floor of the home, it will extend to two—so you'll get double the space.
Cantilevered extension
A cantilevered extension is an extension that isn't supported by a floor or building beneath it; the extension juts out of the side of the house. Because it's not built on the ground but rather onto the side of the house, these might be an option in spots where for whatever reason, the ground itself isn't letting you expand (perhaps it's too sloped) but your property would otherwise accommodate the additional room.
Sun room
Sun rooms are part of a house, but they usually are a bit easier to build because the walls are mostly windows (in many sunrooms, the walls will only reach two to three feet in height), and they typically aren't heated or insulated like the rest of the house. You'll need to build a foundation, flooring, the windows, and the ceiling, but you won't need much else.
ADUs for all
An ADU, or auxiliary dwelling unit, is a building that's not actually part of your house but is still located on your property. Sometimes these are hooked up to the electrical and plumbing available on your land, but often they are simply glorified sheds—which are useful in and of themselves. Even without utilities, an ADU can be used as a home office, an art studio or other creative space, for kids' toys and games, to work out, and so on.
When you can hook your ADU up to water and electricity, then your options expand. Adding a little three-quarter bath to your ADU and turning it into a small living unit with a bedroom can give you an option to rent it out on Airbnb or another vacation rental platform, generating a little extra passive income whenever you like.
Enclose a porch
A porch that's built onto your house is already almost a sun room! Adding windows and reinforcing the walls can give you that additional enclosed living space … if you really miss the porch, you can always build another one (outside of your new wraparound sunroom).
Add a walkway
Some homes are built in two separate buildings over time, or perhaps you took the advice to create an ADU, but now you want to connect it to your main home. Adding a walkway between existing buildings (if that's a thing you're dealing with) can be a wonderful way to streamline your living space—and keep everyone out of the elements as they move around your home.
Pop the top
If there isn't any room around your house to build an extension, consider that you might be able to add another story to the top of your house. This requires removing the roof, extending any staircases inside, and rebuilding the attic and roof back on top of the structure when it's all complete; you'll want to make sure your foundation and walls can support the additional weight, but it's a viable option if you simply don't have any space to sprawl.
Look outside
You might not have the room to build a full extension outside your house, or perhaps the ground is too sloped to make that a viable option. However, if you have the land available to build a patio, deck, a garden, a play area, or a lounge space outside your house, this can help win you more space by allowing you to spend time dining or relaxing under the sun or moon instead of within four walls.
Build an unattached garage
Maybe your home never had a garage to begin with, just a driveway or possibly some covered parking. Or let's say you've tackled the garage conversion we mentioned above and have a whole new room in your house. Great! Now … where are you going to park your vehicles?
An unattached garage can win you back some room in terms of storage space, of course, but you might also be able to get some extra mileage out of it.